Himalayan Research Expedition till date have has its experience on facilitating research works at higher altitude. Lately, it was felt necessary to provide volunteer opportunities for Nepali students of relevant fields to participate in these activities. This opportunity will not only allow the students to train themselves to work at higher elevation but also to get exposed to the scientific communities and their research work in Nepal. 
Every year HRE provides this opportunities to two of the students from universities of Nepal. If you are interested in travelling and volunteering in high mountain research projects, keep updated as we will notify beforehand for such programs. If you would like to know more about this program contact at the following address. 
Email: This email address is being protected from spambots. You need JavaScript enabled to view it.
Know about the experience of our student from 2016!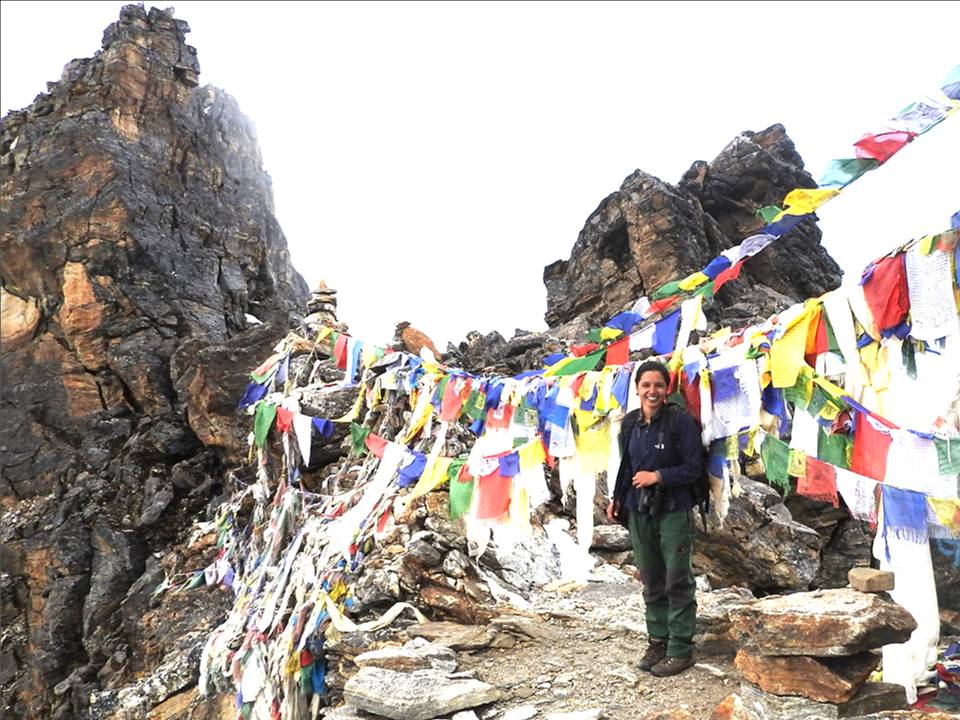 At Renjo La above Gokyo Lake in Sagarmatha National park
Hi, I am Bidhya Sharma and recently I finished my Bachelors in Forestry from Institute of Forestry, Pokhara. When we were in last days of our college, I remember that we'd have never ending discussion of what weare going to do next.  I used to tell my friends that I will be travelling my country and knowing it betterwhen I graduate. At that point, I had no single idea on how I was going to do it, but, through HRE, mydreams came true to travel to high mountains of the country, which I had never done before.
It was an excellent opportunity not only to know my country better but also to come together with top-class scientists to learn and work with them. In this trip, I got opportunities to participate in the study of "himalayan viagra Yarsagumba in Makalu National Park" and "glacier lakes in Khumbu". Getting a scholarship from HRE to be the part of programs , was exactly the kind of thing that I was looking for after my Bachelors. In these two months time, I met scientists and researchers from various backgrounds from geographer, glacierologist, social scientist to ecologist, which all shaped me in understanding the high mountains better. Moreover, there were so many things that I experienced for the first time in life, for instance, sleeping in a tent over a month, getting as high over 5800m and several others. 
The management team as well as the field staff of HRE, were so helpful and experienced, that our whole team never had to face the problem of any sort. For someone like me, who never had been away from family for such a long time, during the start of trip there was a feel of uncertainty in me when I came to know that we will not have a single communication access. But, to my utter surprise, our co-workers and the HRE field team was so warm that I never seem to be missing my family. 
Though there are endless things about the trip to mention (which are never going to come to an end), I must have my final say that travelling with HRE and being a part of the opportunities that HRE provides, you are definitely going to have the most amazing trip that you will always cherish. I am really grateful to the whole team of HRE for giving me this opportunity.